Our Team
Anne "Kip" Watson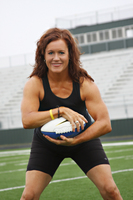 Consultant - MA, LPC, Certified Personal Trainer, MBTI Certified
For nearly 15 years, as a Licensed Professional Counselor, Certified Trainer and Professional Athlete, Kip has assisted individuals, families, coaches, and athletes from the grade school level to the NFL to maximize their mental and physical potential. Noted for a gentle yet challenging style of communication, she provides an environment focused on true change. Her clients have gone from giving up on life and dreams to achieving more than they thought possible.
She holds herself in that camp as well. In her 40's, she fulfilled a dream of becoming a professional athlete playing women's professional tackle football for the 4-time World Champion Dallas Diamonds. She earned her Super Bowl ring in 2008 playing safety and special teams for the Diamonds.
Through her company NeuroSport, she uses the Myers-Briggs Type Indicator and neuroscience to work with athletes, coaches, and parents to customize training and preparation. No aspect of the athletes training goes untouched. Working in collaboration with the team around each athlete, she assists the facilitation of addressing issues of physical strengths and obstacles, to dealing with pressure situations and key factors in motivation. And, sometimes, she deals with any 'messiness' that comes up in life.
She holds a Master's degree from Dallas Theological Seminary in Biblical Counseling and received her undergraduate from Texas Tech University. She writes for The Examiner and blogs for the Dallas Morning News on football, fitness and health. She is a regarded speaker on such issues as physical and mental performance, fitness, obesity, eating disorders, and living a healthy lifestyle.
She has two children, 11 and 9. In her spare time, she coaches pee wee football and volunteers at her kid's school teaching Bible and journalism.